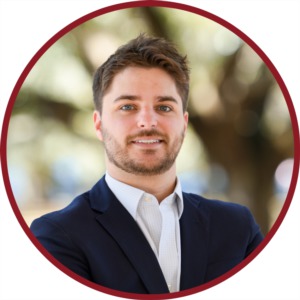 Elliot is a driven and passionate real estate professional who has lived in Charleston, South Carolina for the past 8 years. He received his education at the College of Charleston and previously worked in sales for a flooring company. However, he always had a passion for real estate!
Elliot is an outgoing individual who loves to meet new people and enjoys being outside of an office environment. He is a sports enthusiast who enjoys attending College of Charleston's basketball games and playing golf. He also has a love for good food and cites Chubby Fish and Melfi's as two of his favorite restaurants in Charleston.
Aside from his professional pursuits, Elliot is also deeply involved in his community. He helped start The Carter Tyson Fund through Shatterproof.org, a charity that helps people who struggle with drug addiction and depression. He has raised over $17,000 for this cause.
In his free time, Elliot dreams of owning a home that resembles an old New Orleans Garden District house. He is motivated professionally by receiving referrals, compliments for his achievements, financial rewards, and the path to financial freedom. With his drive, passion, and commitment to helping others, Elliot is poised for success in his real estate career.