Sue McGhee
Director of Operations / REALTOR®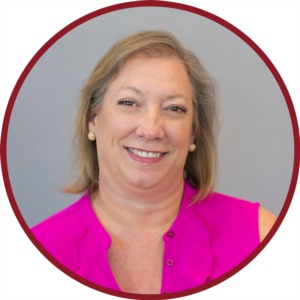 Sue McGhee is the Director of Operations and a Licensed REALTOR® for one of the top-selling real estate companies in Charleston SC. Initially from St. Louis, she attended Southeast Missouri State University where she studied Marketing and Sales. After marrying her husband John, she decided to stay home with her 3 daughters. During that time, she became a Pampered Chef sales consultant and went on to become one of the first Sales Directors in the state of Mississippi.
Once her youngest daughter entered school, Sue went back to college and received a culinary degree. She proceeded to work in a top restaurant in St. Louis as a Pastry Chef, and also assisted in teaching cooking classes at the Viking Culinary School. In 2007, she became co-owners in the Chocolate Cafe and Coffee House where she was the executive chef. As you might imagine, these credentials make Sue the most popular person in the office!
Looking for a change in 2009, she became part of the management team at Ulta Cosmetics and Fragrance in Manchester, MO. Sue has also strived to be in an industry where she gets to help people. Whether it's helping with a tool in the kitchen to help make cooking easier, preparing a dessert to celebrate an occasion, or assisting someone with choosing colors or fragrances, Sue finds joy in knowing she can lend a hand. Moving into the Real Estate world was a natural progression, and now she gets the help people through the process of selling or buying their homes.
Sue currently lives in Charleston, SC with her husband John, daughters Katie and Erin, and Jake the Wonder Dog. Sue's oldest daughter Samantha is currently planning her move to Charleston from Kansas City. Since moving to Charleston, she and her family have started surfing and kayaking, and they love living close to the beach and exploring all the history and culture Charleston has to offer.
Life is full of surprises, and Sue can't wait to see what happens next.
Sold on 5/31/2023 2859 Glouster Street
North Charleston, SC 29420