Charleston Haunted Houses
Posted by Colin Spann on Wednesday, February 2, 2022 at 12:13 AM
By Colin Spann / February 2, 2022
Comment

Background vector created by freepik
Haunted houses in Charleston SC
What are haunted houses?
Many people find the idea of haunted houses to be scary and upsetting while others enjoy visiting haunted houses. Let's firstly understand what is hidden behind the term "haunted houses". Haunted houses are perceived as houses or buildings that were inhabited by spirits of the deceased who didn't leave their properties.
The origins of the haunted houses as some kind of entertainment dates back to 19th-century London. In 1802, Marie Tussaud scandalized British audiences with an exhibition of wax sculptures of decapitated French figures. She also created death masks and set up a permanent London exhibition the name of which was "Chamber of Horrors".
Probably some people found the idea to be very scary and not entertaining at all but after some time the idea of creating Haunted Houses began. People would decorate their basements with scary themes for the children to play and run around during Halloween.
Haunted houses did not become a very common thing until Walt Disney made it an icon. Disneyland's Haunted Mansion opened in 1969. The haunted mansion had all it takes to entertain the brave ones who are not afraid of horrors and spirits.
Nowadays, there are even different types of haunted houses you can find in nearly every big city in the USA. There are haunted houses, mansions, haunted hayrides, haunted prisons, and the list goes on.
Haunted houses in Charleston SC
Along with its endless entertaining options and breathtaking sights, Charleston SC offers its haunted house lover guests a wide range of haunted destinations. Charleston SC has haunted history facts that make the haunted houses fun and interesting. The city is considered one of the most haunted destinations in America.
1. Charleston's Old City Jail once housed South Carolina's first female serial killer.
2. The Old Exchange Building & Provost Dungeon once imprisoned Revolutionary War soldiers.
3. Charleston has the largest collection of pre-Revolutionary slate tombstones in the United States.
4. The Powder Magazine, built in 1713 and considered the oldest building in Charleston, is reputedly haunted by the ghost of a notorious female pirate.
Let's explore some of the best haunted houses in Charleston SC and unveil some of their secrets. Pitch-dark halls, creepy noises intermingling with shrieks of horror, a feeling that something is lurking in the shadows. These are all some characteristics of a typical Charleston haunted house.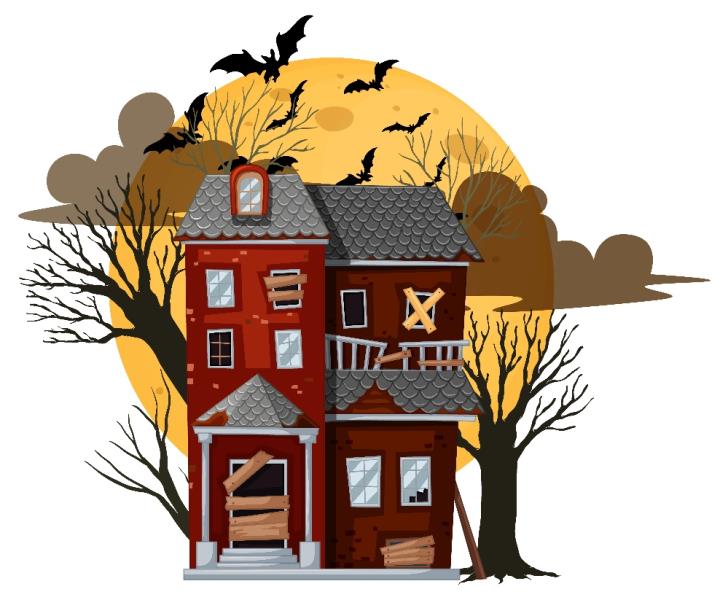 Background vector created by brgfx
Best haunted houses in Charleston SC
Charleston's tradition of keeping things interesting has led to many rumors and ghostly tales. Stories of haunted houses and lost souls doomed to roam the streets of the city till the end of time. The city of carriages and cobblestone has seen centuries of tragedy.
This quiet coastal town is home to some of the most infamous ghosts and spirits in the country. One can indeed have the best Halloween adventures visiting Charleston Halloween haunted houses.
Blind Tiger Pub
Blind Tiger Pub was built in 1803 and there are many stories connected to the place. The name "Blind Tiger" is connected to the many stores. There was a period when it was banned to sell private alcohol, so the place was used as an exhibition hall for many events. Later on it was renewed as a legal public house.
What is haunted in Blind Tiger? Rumors say that there have been many dark stories connected to a woman dressed in black promptly appearing and disappearing. Some regular customers also report experiencing strange events such as having their hair pulled and hearing phantom footsteps when there is nobody else in the bar.
If you have decided to go on one of the Charleston ghost tours, then mark Blind Tiger as one of your destinations to explore!
Address: 36-38 Broad St, Charleston, SC 29403, United States
Poogan's Porch
Poogan's Porch was built in 1888. It's charming, with an inviting front porch, delicious food, and impeccable service. It's pretty pastel walls hold a lot of dramatic stories. Poogan's Porch is not just a popular dining spot, it's also one of the most haunted places in Charleston SC.
There is a dramatic story behind the place connected with a woman who is believed to run the place with her spiritual presence. Her name is Zoe who used to live in the building with her sister Elizabeth.
Address: 135 Church St, Charleston, SC 29401, United States
Dock Street Theatre
Originally the Dock Street Theatre was burned down and was converted into a hotel, it has recently been converted back into a theatre. It also has a reputation for being one of the most haunted places in Charleston, with both actors and audience members reporting ghostly sightings throughout the location's tenure. Many speculate that these are the ghosts of people who perished in the 1809 fire. Find the best-haunted places in Charleston SC.
Address: 72 Queen St, Charleston, SC 29401, United States
Old Exchange and Provost Dungeon
Old Exchange and Provost Dungeon is a historic building at East Bay and Broad Streets in Charleston SC. You might think it is one of the haunted houses in Charleston and you will not be mistaken. The place has a reputation of being haunted and there is a dark story behind it. Some locals describe it as a burdened basement.
In the 1700s pirate legends like Blackbeard and Stede Bonnet, who threatened the safety of the colonists, were kept as prisoners in this dungeon. People have claimed to hear screaming, and feel chilling cold breezes that could belong to some of the pirates who were trapped below street level in the haunted prison. Looking for Halloween haunted houses in Charleston SC? Start with the Dungeon.
Address: 122 E Bay St, Charleston, SC 29401, United States
Old Charleston Jail
You have probably heard a lot about haunted houses in Charleston South Carolina but about a jail? Old Charleston Jail is believed to be as haunted as a house could be.
Old Charleston is another haunted jail house in Charleston SC. A grey and grim castle-like structure in downtown Charleston. It was once home to the city's most disturbed criminals. From the time it was built in 1802 until 1939, thousands of people were jailed and some died inside the prison. People tell stories of its former residents the 19th-century pirates, slaves, Civil War prisoners, and thieves. It is believed some of the spirits are still there.
There are many haunted house tours in Charleston SC that indeed have Old Charleston Jail on the agenda.
Address: 21 Magazine St, Charleston, SC 29401, United States
Charleston Orphan House
In many horror movies orphan houses are one of the main scenes. The Charleston Orphan House was built in 1790. Charleston Orphan House was in operation up until 1918. When it was devastated by a large fire, which destroyed most of the building and claimed the lives of the children living there.
A tragedy of this scale is the perfect recipe for a haunting. So it is hardly surprising that the orphan house is one of the most haunted places in Charleston.
The original building is long gone. New buildings and businesses now occupy the land, but in hunted words "the orphans are not gone yet"
Address: 5055 Lackawanna Blvd, North Charleston, SC 29405, United States
Bocci's Italian Restaurant
Bocci's Italian restaurant has earned a good place among the Halloween haunted spots in Charleston SC. The story behind the restaurant is very interesting but meanwhile dark as a thunder cloud.
It is said to be home to one spirit who hates locked doors! Reports suggest that whenever doors are locked, the entity will start pounding on them and has even been known to unlock and push the doors open. Be careful when locking the doors, some don't like it.
Address: 158 Church St, Charleston, SC 29401, United States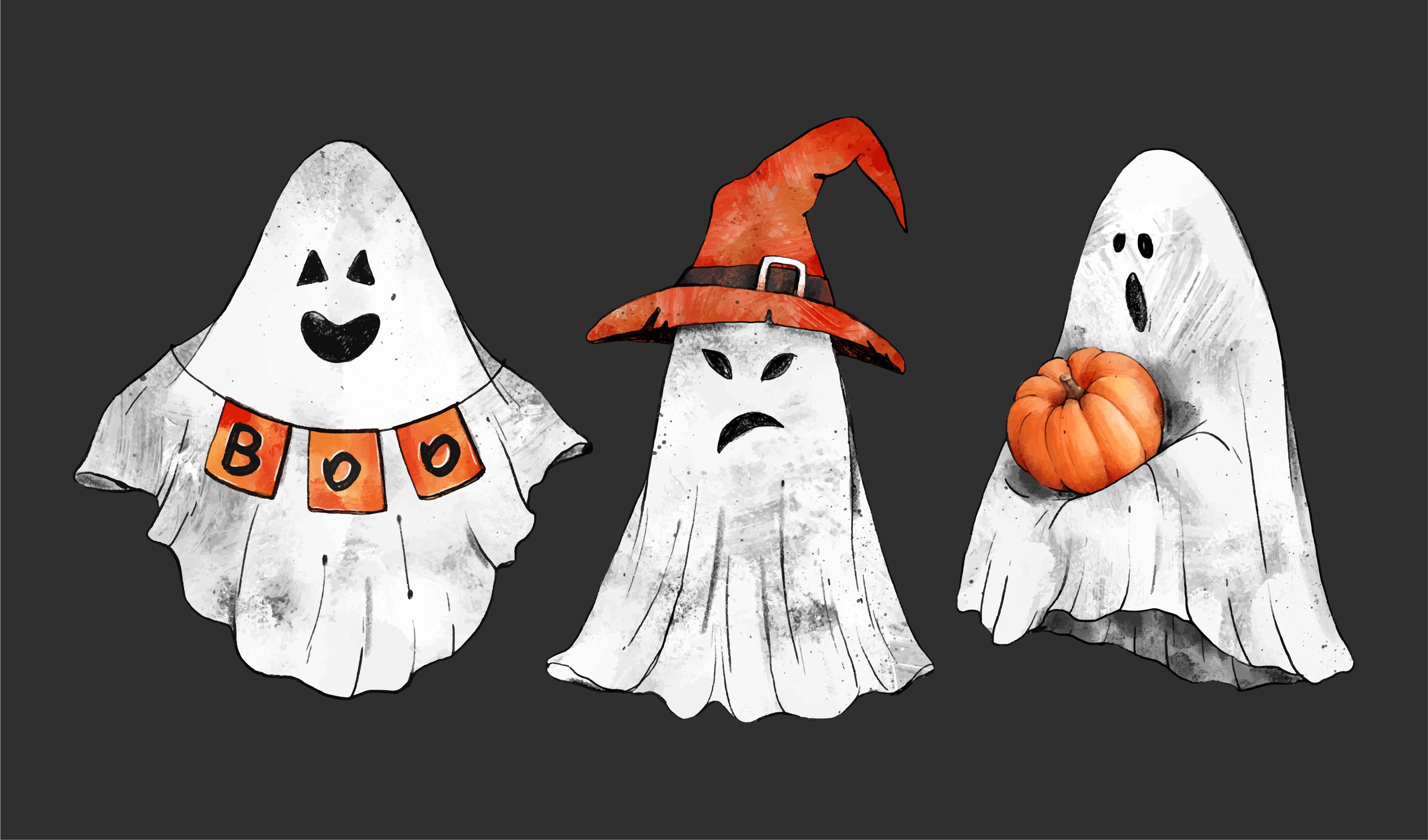 Watercolor vector created by pikisuperstar
Best charleston ghost tours
Well, that was a very small part of Charleston's haunted fun one can have! Charleston has a wide range of Halloween and haunted ghost tours you can enjoy with a group of friends or why not alone! Things you can find to fill your Halloween day can be surprising. There are many haunted houses near Charleston SC as listed but you can also find haunted restaurants, hotels, jails, and of course haunted cemeteries in Charleston SC.
Here are some of the ghost tours you can book for an amazing haunted experience.
The Ghosts of Liberty Tour
On the Ghosts of Liberty tour you will see Haunted Charleston in a completely new way. You will view the Holy City through the paranormal lens of those who risked life and limb for Charleston. The tour is a walking tour and it is perfect for families or just a group of friends.
The Death and Depravity Ghost Tour
Discover some gritty crime stories and explore the seedier history of Charleston on a haunted walking tour. The tour offers the visitors a very unique look at the city overall. Find the best-haunted house attractions in Charleston SC.
Tricia's Ghostwalk Tours
Taking a tour is probably the best way to experience and learn as during these tours you will get to hear the full stories behind the haunted places you get to see. Walk down the best-haunted places in Charleston SC and hear things you might never forget.
Ghosts of the South
Take a leisurely stroll and search along the shadowy streets and alleys of downtown Charleston, to hear stories of the unexplained and strange. Learn more during professionally-guided walking ghost tours. Discover the darkest stories behind the city!
Best haunted hotels in Charleston
Could there be any better place than a haunted hotel for a "haunted experience" lover? Charleston SC is very secretive to the public. There are so many mysteries waiting to be discovered in the city. Let's find some haunted hotels in Charleston SC. Some of the best sights are located in the historic districts of Charleston SC.
Francis Marion hotel
Francis Marion hotel was named after a Revolutionary War hero Francis Marion. The hotel was built in 1924 and has a long tradition of gracious service, elegant accommodations, and hosting splendid banquets and events.
As the tale goes there was a love story connected to the hotel. But as the times were tough it didn't end well. Whether it was because of family pressures or the post-war hardships of maintaining a North-and-South romance, the lady composed a "Dear John" letter and left it in a fellow's hotel room as he slept. Heart-broken, the jilted suitor leapt to his death, landing squarely in King Street.
Address: 387 King St, Charleston, SC 29403, United States
Wentworth mansion
Built in 1886 and designed in the Second Empire style as an opulent private residence for wealthy cotton merchant Francis Silas Rodgers, the Wentworth Mansion is one of the world's finest and most unique inns.
There are 21 rooms in the hotel in all--and rumor has it, even a few friendly ghosts. The tale says that Wentworth Mansion is haunted by the ghosts of the original owner's 13 kids. Discover more on haunted house tour Charleston SC.
Address: 149 Wentworth St, Charleston, SC 29401, United States
John Rutledge House Inn
The Governor John Rutledge House is a historic house in Charleston SC. Completed in 1763 by an unknown architect, it was the home of John Rutledge, a Governor of South Carolina.
In 1989, the house was renovated and opened to the public as the John Rutledge House Inn. Aside from all that glorious history, it's also the site of a strange haunting. Visitors to the Rutledge House have said there's someone else in the hotel. Supposedly, the ghost of a young girl runs around Rutledge House causing all kinds of mischief. Nobody knows who she really is.
Address: 116 Broad St, Charleston, SC 29401, United States
French Quarter Inn
French Quarter was once a tavern and brothel which catered to visiting pirates, as well as any unsavory elements which happened to come around. Pirates were hung here; Stede Bonnet the gentleman pirate and his crew, as well as Richard Worley's gang. You should be careful the crew might still be there!
Address: 166 Church St, Charleston, SC 29401, United States
Summary
Halloween lovers and scary movie fans looking for some real haunted places to visit don't have to search too far. Charleston has a wide range of all the fun possible. Find your favorite haunted house and neighborhood.
If you are even interested in living close to haunted areas then a team of professionals at Matt O'Neill Real Estate can definitely guide you.