The Good Mood Show with Matt O'Neill | Family Miracles with Mike McCarthy
Posted by Matt O'Neill, CEO on Tuesday, November 8, 2022 at 1:18:11 PM
By Matt O'Neill, CEO / November 8, 2022
Comment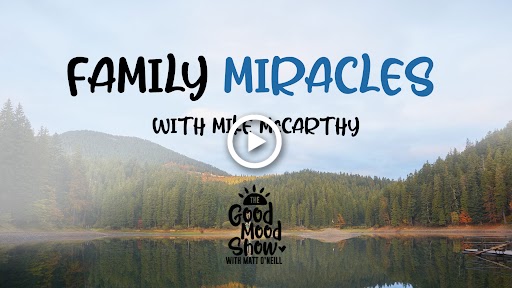 What makes a family a solid unit? Is there a playbook you can follow as a parent to lead your family? Here's a secret: it all starts with deciding your family values.
In this episode of The Good Mood Show, Matt O'Neil interviews the proud dad and founder of the FamBundance community, Mike McCarthy. Mike shares the wisdom that comes with being the head of a family. He shares the importance of creating family values and goals together and constantly reinforcing them to every family member from a young age. He also tackles why intentional family meetings matter.
Lead your family to be the best it can be by tuning in to this episode now!
Here are some power takeaways from today's conversation:
How to create family values
The importance of family meetings
Reinforcing values from the home to the world
Setting family goals
Establishing accountability
[06:36] Creating Family Values
Every family member should have a role in creating your family values. As a family, create a list of words and decide which ones are important. Let these serve as guideposts that will lead your family to the ideal. Reinforce them when challenges arise and affirm family members when they uphold them.
[20:28] The Family Meeting
Bring intentionality to the family through family meetings. Set a schedule and sit down together to appreciate one another. Tell each other your desires, plans, and goals. Gather and communicate.
[33:42] Family Goals
In light of your family values, create categories to form the basis of your goals. These categories may be health, adventure, finances, and more. The decision relies on what you value as a family. However, be intentional in setting these goals and creating accountability measures for them.
Listen to the episode: Family Miracles with Mike McCarthy