Careers at Matt O'Neill Real Estate
A Top Workplaces Top Ten Place To Work In South Carolina - 3 years running!
---

At Matt O'Neill Real Estate, we're not just a team; we are a family. Our culture is built on a foundation of collaboration, support, and a whole lot of fun. Here's why you should consider joining us:
We believe that a happy team is a productive team. That's why we celebrate and have fun every single day. Our open-door policy with the executive team ensures that your voice is heard, while our team social events and happy hours help you unwind and bond with your colleagues. We also offer charity volunteer opportunities and team-building activities because we know that a "win" for one is a win for all!
Our founder, Matt O'Neill, is committed to your success. He's hands-on every morning from 8AM-10AM, coaching agents on call scripts and lead conversion in real-time. Our agents also meet weekly in "squad" huddles for peer-to-peer encouragement and problem-solving. Plus, our weekly trainings cover everything from technology and contracts to lead generation and marketing, and are led by Matt O'Neill, executive team members, and Charleston's TOP agents.
Leads and ISA Appointments
Our 6-person ISA (Inside Sales Agent) team is your secret weapon. They qualify hundreds of inbound leads and make thousands of calls each week, setting appointments and creating opportunities for you to get in front of as many active home buyers and sellers as possible—7 days a week!
Comprehensive Support Staff
We've got your back! Our support staff includes Listing Coordinators, Closing Coordinators, a Marketing Team, Agent-Branding specialists, a Professional Photographer, a hands-on CEO, Lisa Quick, our Broker-In-Charge, and Theresa Watters, our Director of Business Development. All are dedicated to helping you succeed.
---

---
Be Part of the Best
We're proud to announce that Matt O'Neill Real Estate has been named the #2 Top Firm in South Carolina by US News & World Report.
With over 1000 5-star Google reviews, we are the top-rated brokerage in Charleston.
In 2022 alone, we have served over 800 families.
We have achieved over $2 Billion in Charleston Real Estate Sold.
---
Ready to take your career to the next level?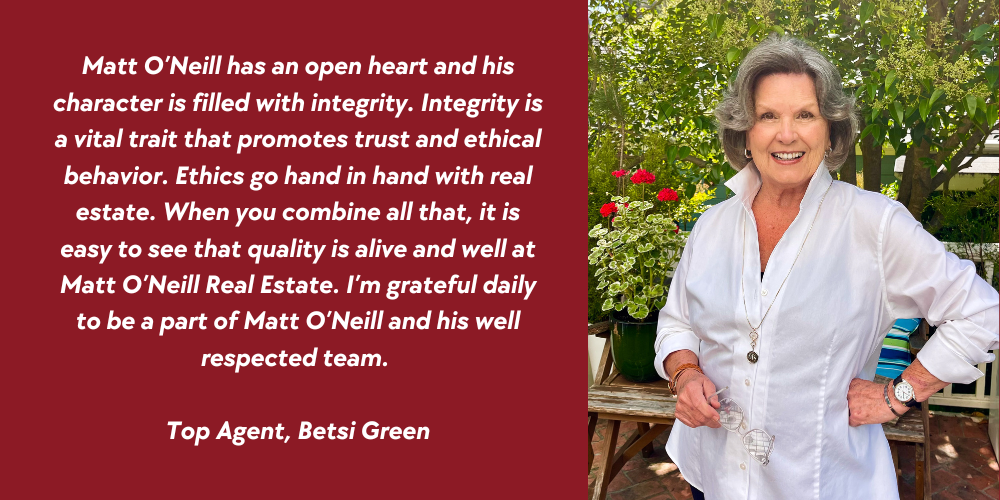 ---
Have questions or want to learn more?
Contact our Chief Business Development Officer, Lizzie Spery, directly or fill out the form below!
[email protected] | 847-331-6188
Think you'd be a good fit at M.O.R.E.? We'd love to meet you!