Waterfront Homes
Waterfront is a location or part of a city or town that is directly on a body of water. A waterfront home has direct access to a natural or man-made waterways such as a lake, river, channel, or canal. Buying a house with stunning views of the ocean or a beautiful lake is a dream for many. It is separated from the water by a right-of-way, private road, or unopened road.
Just imagine how magnificent it is to own a dream waterfront home. Obtaining such property is a lifelong wish of many people. Imagine the luxury and the exotic scenery it can provide. Water is an invigorating element and has always had a special fascination for us, humans.
Whether canal, lake, river, or sea: living directly on the water stands for a special quality of life. Most people associate a view of the waterfront homes with positive feelings: space, freedom, relaxation.
Types of a waterfront home include:
estate homes on the beach
small log cabins on private ponds
lakeside luxury communities
majestic mansions poised on the bluffs of large rivers
Features:
Waterfront homes in North Charleston and Charleston, in general, have very essential features and peculiarities people look up to before buying the property. Some of them are:
Large windows - for a clear view of the water, lake, river. This is indeed one of the keys to enjoying the property at its best. Imagine morning coffees with a view of the water.
Large decks
Large garage
Possibly a mudroom - Where you can get clean or wash your shoes before going into the house.
Advantages and Disadvantages
Pros
Good Investment: As waterfront homes are rare to find compared to other properties, the costs are a bit higher as well. Waterfront homes account for a significant value and high investment. Amazingly enough, many people wish to rent waterfront homes for short or long vacations. Owning a property like that can stably bring in some capital for you!
Healthy Lifestyle: The health benefits of unpolluted, water-close areas are out of the question as there are many! Waterfront homes give you the chance to avoid paying fees to go to the pool or enjoy the fresh air.
Relaxing and harmonic atmosphere: The luxury of having this advantage in your life can happen in waterfront homes.
Cons
Humidity: The humidity, mist, erosion, and elements (including salt, if you're on the ocean) not only impact the grounds and exterior of a waterfront home, but also the appliances and furnishings inside.
Bugs and pests: Additionally, waterfront living means accepting that you'll be constantly barraged by mosquitos. Depending on the climate, you may have to deal with snakes, alligators, or other pests.
Hurricanes: If you want a beach house, be aware that you'd likely be in a hurricane zone.
Expensive: Indeed you will not be surprised that waterfront homes can be extremely expensive depending on the area.
Waterfront homes
December 11, 2023
$1,185,000
Med. List Price
Waterfront Homes in Featured Communities
Beach homes in Charleston, SC provide more than just amusement. Here are some more advantages of living in waterfront homes.
1. Ocean breeze has positive health benefits
Magnesium and iodine are minerals that are abundant in the ocean breeze and these can do wonders for the lungs and the immune system. It can reduce symptoms of asthma, promote respiratory health and improve allergies and skin problems. If you have a family member or a loved one who is suffering from breathing difficulties, consider living by waterfront homes in Charleston, SC.
2. Experience aquatic adventures all year round
Kayaking, fishing, swimming, and boating are best enjoyed if you live by the beach. With close proximity to the beach, the problem of hauling your watersports equipment would be the last thing you'll worry about.
Instead of paying for ramp access every time you want to trailer your boat to the waterfront, a property on the water with a dock allows you to boat at your convenience. Matt O'Neill Real Estate has the best listings for a Charleston waterfront home for sale.
If you're not into water sports, you may choose to play beach soccer, volleyball, or use the shore as your natural running track. Waterfront homes near Charleston, SC offer limitless opportunities for you and your family to bond with each other while fully enjoying the perks of living near the beach.
3. Coastal area nightlife
Partygoers love heading over to Charleston as there are many beach bars and nightclubs that serve awesome beats and eats until very late into the night. There are bars close to luxury waterfront homes in Charleston, SC that have incredibly long happy hours on top of the excellent dining experience they offer.
Where to find Charleston Beachfront Homes for Sale
Ditch the city noise and allow yourself to be immersed in the therapeutic and relaxing sound of the crashing waves and the cool night breeze. The soothing sound of rushing water will certainly rock you to sleep. Additionally, the views can be spectacular at almost any time of day in any weather condition. Privacy is in short supply in regular homes these days and you'll have a tad more of that while living in a waterfront home.
Are you considering taking the "plunge", but don't know where in the Charleston area can you find beach homes for sale? Check out our list of homes for sale on the beach in Charleston, SC. We have arranged our list per major area for your convenience.
Charleston, SC Beach Homes for Sale

Also known as the "Edge of America" and "Mayberry by the Sea", Folly Beach is home to the Folly Beach Pier and Folly Beach County Park. Center Street offers non-stop excitement for residents and tourists alike with its vast selection of surf shops, shake and snack booths, and souvenir stores.
Folly Beach remains to be one of the top choices for waterfront homes for sale in Charleston, SC. For those who are interested in learning how to surf, there are many surf schools that can teach you the basics. There are also charter services for those who are into boating activities. Truly, outdoor fun is unlimited in Folly!

If you're looking for luxury waterfront homes for sale in Charleston, SC, then Sullivans Island should be one of the places you should check out! Only 20 minutes away from downtown Charleston, this island takes pride in having the most natural and non-commercialized beaches in the Charleston area.
Folly Beach offers the most affordable waterfront homes in the Charleston, SC area. Sullivans Island, on the other hand, is a more high-end location. Being an "island" there's simply no room for expansion or add any more single-family structures. This makes every home in Sullivans Island a "premium" pick.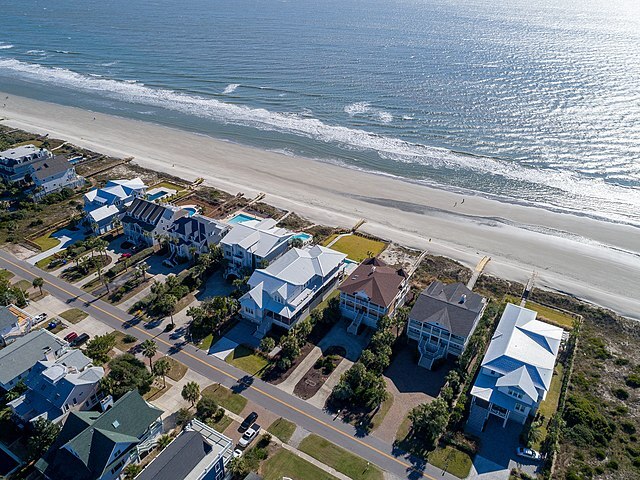 Known for its beaches and nests of sea turtles, Isle of Palms is home to a long list of luxury waterfront homes. With its six miles of white sandy beaches, the Isle of Palms remains as much a place of relaxing and picturesque serenity for both residents and visitors.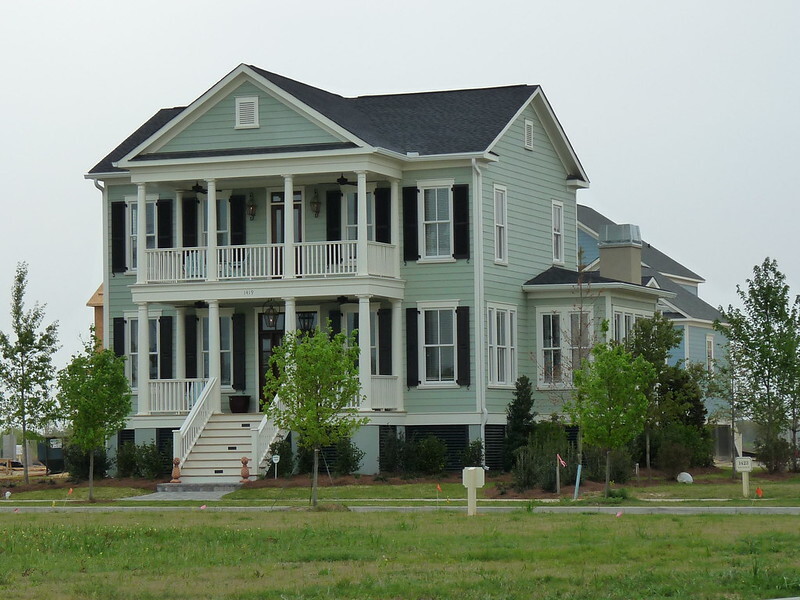 Charleston is exactly in the middle of the Cooper and Wando rivers. These cities can get pretty humid during the summertime. Fortunately, beaches and private pool resorts are everywhere to cool you off! There are new waterfront homes for sale in Charleston, SC that are ready for occupancy!
Every kind of water activity can be enjoyed in Charleston. Being a peninsula, the city is naturally surrounded by water. The area is commonly associated with relaxation, including ocean tides, sea breezes, and warm sand, which all help to destress folks who live nearby.
While a vacation here can temporarily reduce your stress levels, people who live near the ocean can experience this same benefit on a daily basis. Because of this reason, homes for sale in Charleston, SC near the beach are hot commodities. They're selling fast!

Mount Pleasant is 15 minutes away from downtown Charleston via US-17N. There are great downtown Charleston waterfront homes for sale. However, if you're more into shopping and entertainment and sightseeing, then Mount Pleasant is the place for you.
The breathtaking beaches of The Isle of Palms and the historic Sullivans Island are within a 10-15 minute drive away from Mount Pleasant. Some homes here are within biking distance from those bodies of water. There are countless options for Mount Pleasant neighborhoods with amenities such as Belle Hall and Bentley Park.
Charleston, SC homes for sale near the beach are more affordable compared to its Mount Pleasant counterparts. The area is a relatively new suburb. Most of the shopping centers and the leisure places still look "good as new" and are very well-maintained.
Are there specific waterfront homes for sale near Charleston, SC that you're looking for? Charleston has been named the" Top City in the Entire United States" by Travel and Leisure - and that says a lot! Even the non-coastal cities within Charleston are worth checking out. This city's charm goes beyond picturesque beaches and cobblestone pavement and we'd be more than happy to show you around.
There's nothing quite like living by the beach. Dreaming about living in a waterfront home and actually living there are two different things. Contact us NOW and let's get you set up into actually living in your own waterfront home!